Event Info
AIDS Walk Atlanta is a great way to give back to your community. Come together for a 5K walk, run, food trucks, and an epic concert!
Proceeds raised from the walk and festival go to local AIDS service organizations that fight to end the epidemic in our community every day.
Be sure to visit the beneficiary organizations' tents to learn more about their services in the community. Stop by our sponsor tents as well for goodies and swag!
Event Site, Map and Parking
You'll find us at Piedmont Park. Due to recent weather and other events, we have moved our event site to the center of the Meadow. The Route Map shows where you'll be walking or running.
We encourage you to use public transportation, or take advantage of street parking in the area. Paid parking is available for $15 at SAGE parking lot, 1320 Monroe Drive.
Saturday, September 25, 2021: Schedule for the Day
9:00 a.m. – Festival Site Opens
10:00 a.m. – Opening Program
11:00 a.m. – 5K Run/Walk Starts
Music Festival to follow
1:30 p.m. – Festival Ends
We encourage you to use public transportation, or take advantage of street parking in the area. Paid parking is available for $15 at SAGE parking lot, 1320 Monroe Drive.
Route Map: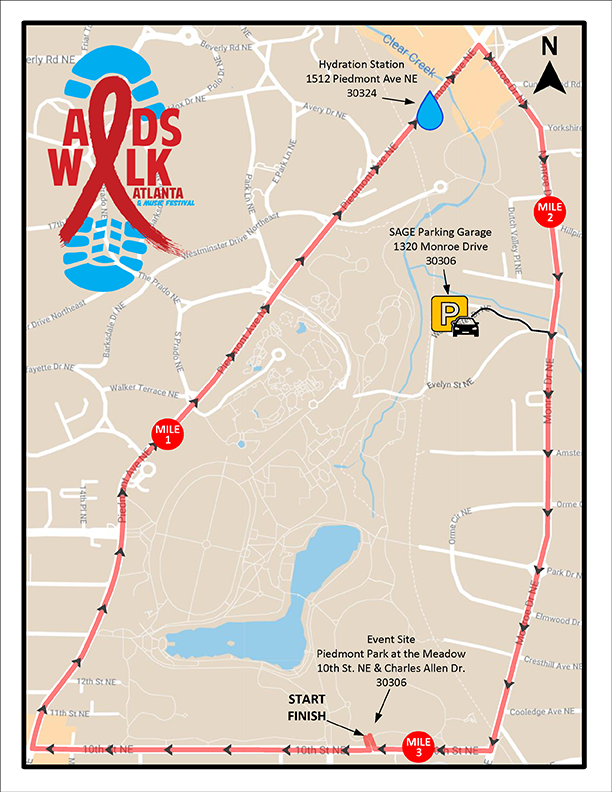 Make sure to bring your camera or phone. Tag all your social media posts with #AWA5K and #AWA2021. Follow us on Facebook here.
Music Festival
AIDS Walk Atlanta will feature Ludacris and Sevyn Streeter! Read more.
Check-In: Walkers
When you arrive at the event, you will check yourself in via QR code to remain contactless. The QR code will be posted on signs at the Walker Check-In tent, so don't forget to bring your phone. Please head to a pod with your group of up to 10 after checking in. Walkers will be released to the Start line by pods after the runners depart. Pods are first-come, first-served both before and after the 5K Walk/Run.
Check-In: Runners
When you arrive at the event, you will check in at the Runner check-in tent to get your bib assignment and timing tag. We will be releasing runners in waves to encourage social distancing. Please wait for direction from the stage. Once you get to the start line, you can start running at any time. Your Chronotrack timing chip will start tracking you as soon as you cross the mat. There will not be a single start time. There will be a QR code on your bib you can scan to check your results. All runners receive a free t-shirt! Be sure to take your bib to the Rewards tent to pick up your shirt before or after your run.
Important Safety Information
We are taking safety very seriously. We have a COVID safety plan in place that has been reviewed and approved by Fulton County and the City of Atlanta, and our ability to hold this event in 2022 and in the future depends upon the cooperation of all participants in following these guidelines.
If you are experiencing any symptoms of COVID-19 or may have been exposed to someone with COVID-19, please do not attend the event. Visit the CDC's website for more information about coronavirus symptoms.
There will be distanced viewing boxes for each pod of participants during the ceremony and music festival. These boxes accommodate up to 10 people. Your group of up to 10 people will need to arrive together and will choose your pod area.
Participants will be released to the Start line from their viewing boxes.
Participants are encouraged to wear face coverings throughout the event unless eating or drinking.
Participants will need to follow social distancing and other health guidelines posted on-site.
Hand sanitizer will be provided at the festival and water stops. Please make use of it.
Participants should avoid physical contact (hugs, high fives, etc.) with people outside of their group.
Failure to comply with safety measures may result in participants being asked to leave the event space.
Allowed/Prohibited Items
What to Bring: Face covering, sunblock, sunglasses, ID, comfortable shoes, your fully-charged phone and/or camera, and a credit card for food & drinks
Do Not Bring: Wagons, pets, coolers, large umbrellas or picnic baskets STRICTLY PROHIBITED: Weapons, Glass, Outside Alcohol, Drones
Onsite Registration and Fundraising
In order to keep our event contactless, we will not be collecting donations at the event. However, there will be QR codes around the site so visitors can donate easily with a mobile phone.
If you bring friends and family who aren't registered for the event, they should see a volunteer at the Check-In tents to register.