Festival Line-Up
At AIDS Walk Atlanta we don't believe in staying silent. Get ready to make some noise with our musical guests and rally our community to action!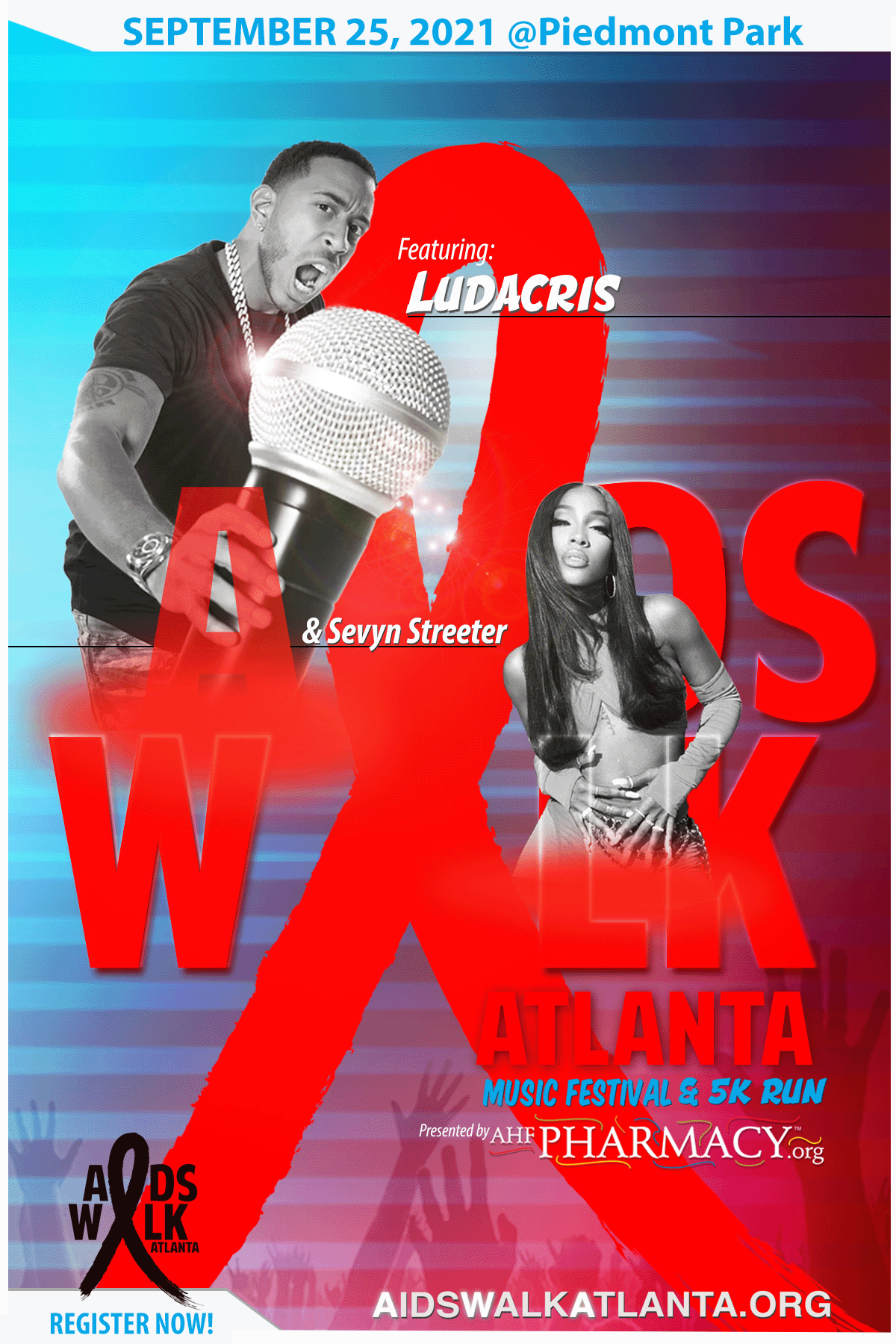 Chris "Ludacris" Bridges
The career of the multitalented CHRIS "LUDACRIS" BRIDGES can best be described as remarkable. As a recording artist, he has sold more than 15 million albums domestically, thanks to the blockbuster success of such singles as "Stand Up," "Get Back," "Southern Hospitality," "Number One Spot," "Money Maker" and "My Chick Bad." All of these records were accompanied by ingenious videos that demonstrated Bridges' far-reaching imagination, and his willingness to stretch the boundaries of what rap videos should look and feel like.

With an unrivaled match of lyrical acumen, wit, and imagery, Bridges has solidified himself as one of music's premier entertainers. Although he's best known for his infectious tunes, Ludacris has shown that he's equally adept at writing powerful songs with serious subject matter, including runaways, with the song "Runaway Love." Bridges' versatility and artistic complexity also enabled him to make a seamless transition to acting.

In 2017, Bridges starred in the highly anticipated The Fate of the Furious, which broke records at the box office, becoming the highest grossing film opening worldwide. He will reprise his role of Tej in Fast & Furious 9, which broke records last week. In 2018, Bridges was featured on Carrie Underwood's platinum song "The Champion" on which he was a songwriter. Bridges was also featured in movies "Ride" and "Show Dogs" in 2018.

His other feature film credits include Universal Pictures' Fast 7, Fast & Furious 6, Fast Five, 2 Fast 2 Furious, Garry Marshall's ensemble comedy New Year's Eve; and Ivan Reitman's romantic comedy, No Strings Attached, opposite Ashton Kutcher and Natalie Portman. His acclaimed performances in film, (Crash, Hustle & Flow), and television, ( Law & Order: Special Victims Unit), have Hollywood and critics alike buzzing about his increasingly impressive screen resume. Stepping back into the studio, he is working on new music with an album release sometime this year.

A consummate businessman, Ludacris is enjoying success outside of entertainment. His latest venture includes launching his educational platform devoted to the enrichment of children called "KidNation". In addition, the opening of his long-anticipated restaurant "Chicken-n-Beer" located at the Hartsfield-Jackson Atlanta Airport.

Bridge's philanthropic efforts rival his entertainment accomplishments. He started The Ludacris Foundation in 2001 which focuses on helping the youth in his hometown of Atlanta. In addition, he has recently partnered with No Kid Hungry and Feeding America.

Sevyn Streeter
Sevyn Streeter is at a loss for words. This, of course, is a stunning revelation given that the boundless 34-year-old singer/songwriter/performer, who has boldly merged the line between pop and R&B for over a decade, is known to be quite a loquacious spirit. But when she is asked what she hopes fans will get from her alluring new eOne album, Drunken Wordz x Sober Thoughtz, she pauses for what seems like an eternity.
"Wait, let me hit my weed pen," Sevyn casually says before going deep. "I don't want to tell people what to get out of my new album," she admits. "But what I want to do is serve as a means of expression for someone. Everybody doesn't know how to say I love you or you hurt me. And everybody doesn't know how to say fuck you. People don't like to admit they feel emotions. I just want my fans to tap into Drunken Wordz x Sober Thoughtz and come into my world."
Mission accomplished. The buzz surrounding Drunken Wordz x Sober Thoughtz, Sevyn Streeter's follow-up to her acclaimed 2017 debut Girl Disrupted, has been running at an organic pace. And it all starts with "HMU" (Hit Me Up), the intoxicating, mid-tempo first single, which is already turning on the charts and streaming platforms. Critics and longtime followers have been taken aback by the song's two-fisted, empowering lyrics that are as sexy as they are hauntingly layered.
"This ain't love…keep it cool…you know what's up," Sevyn proclaims on "HMU's" straight-no-chaser chorus. But all that false bravado melts away within seconds: "I refuse to let it go, you know it's all yours / We fuck it up, when we get close, it's perfect timing / I was 'bout my bidness / Until my heart fell in it."
Sevyn is in a state of unleashed bliss that can come crashing down at any moment. This is unfiltered art. "HMU," for me, is a representation of the liberation you hear on Drunken Wordz x Sober Thoughtz," she explains. "At the end of the video for 'HMU' I placed in quotations, 'You can be as wild and free as the wind when under the influence of the moment.' You don't need drink-enhanced courage when you are following your heart. You can be under the influence of love, grief, lust or a breakup, which can all push you to do things your probably would have never done."
Indeed, the Smash David (Chris Brown, Big Sean, Khalid, G-Eazy) produced track is further elevated by dreamlike, seductive, smoked-out, and debauchery-fueled visuals by genre-pushing auteur Malakai who came at the suggestion of Emmy-winning actress, television writer and producer Lena Waithe (Master of None, The Chi, Boomerang).
"Lena told me, 'I'm going to send you a few short film directors that I think would be perfect for you,' Sevyn recalls. "The one I keyed in on was Malakai. We ended up doing a Facetime and come to find out she's this bomb ass young black woman director from Arizona."
There's more. On the infectious, Afrobeat-propelled, second single "Kissez" (BongoByTheWay), featuring American-Nigerian singer/songwriter Davido, the unbridled pair erupts in sensual bliss. "I'd throw it back with you with everything / I was the only one that knew what you like," Sevyn coos.
The blush-inducing "97" (D Mile) is flipped by a brilliant, dusty hip-hop break beat that is sure to have serious dancers pressing rewind. "Guilty" (Chizzy Stevens) amplifies Sevyn's pristine vocals with a swaggering appearance by A$AP Ferg over a sample of James Brown's 1973 classic "The Payback" as if it were taken straight from the highflying '90's Bad Boy Records era.
And the Jeremih-backed "Wet Dreamz" (Bizness Boi) doesn't even attempt to mince words as Sevyn lays down her intentions to a would-be lover: "I could give a fuck about what your plans is / If I hit you…like would you answer? / Whoever it is you better cancel."
Sevyn Streeter wrote much of Drunken Wordz x Sober Thoughtz with the help of longtime friend and in-demand songwriter Melvin "4rest" Moore. "We locked in so much this project," she says. "4rest is like a brother, so I have conversations with him that I wouldn't have with a lot of other people. He knew what my dating life was like [laughs]. He knew where I was as a woman. Our conversations about relationships eventually turned into records."
It was inside her home recording studio, earlier this year, that Sevyn took control of her career. Amid the pandemic, Sevyn made career defining moves—running recording sessions, penning lyrics, picking out beats, overseeing photo shoots, writing treatments, co-directing videos, and just being an all-around bad ass.
"There was no one there to tell me what to do, so I just did what felt organically to me," she says a-matter-of-factly, adding that her impressive run contributing writing to songs by the headlining likes of Alicia Keys ("New Day"); Ariana Grande ("The Way"); Tamar Braxton ("All the Way Home"); and Chris Brown ("Yeah 3X," "Strip") helped her prepare for an independent partnership with eOne.
"I just liked how it felt when we sat down and talked," she explains. "I didn't have to bite my tongue while expressing what it is I wanted for my career and life. I've enjoyed the process of being independent with eOne. That's a pretty big deal to me."
Yet the Haines City, Florida native has always been ready for the spotlight ever since her days as a 12-year-old kid singing in a gospel group with her 14 cousins called the Voices of Praise. "Where I'm from its super Black," says a proud Sevyn. "It's so country…loud ass music, barbecues and dinners every Sunday at my grandma's house. I come from a very close, loving, spiritual family."
It all started with a passion for creativity. At that same pivotal period Sevyn, a huge Brandy and Aaliyah fan, was plotting a career in music. And the up and coming talent was never afraid of the big stage. At 10, Sevyn had already appeared on the classic syndicated television music series Showtime at the Apollo. But later stints in the teen act TG4 and the R&B group RichGirl fizzled out. Sevyn wanted more. She signed to Chris Brown's CBE imprint and went on to garner notice at Atlantic Records becoming known as the girl that could sing, dance and write a song in two hours. Show off.
Yet behind the scenes, Sevyn was always perfecting her craft, an ardent practitioner of Malcolm Gladwell's 10,000 hours of the "deliberate practice" rule to reach world class heights. Now with the release of Sevyn Streeter's Drunken Wordz x Sober Thoughtz, she marvels at just how far she has come not only as an artist, but also as a woman.
"I've been gone for so long and I'm nowhere near the person that I was before. I'm sexually freer and more empowered than before and I'm extremely verbal…sometimes too damn much," Sevyn muses.
Yet it all starts with an unquenchable passion for the music. For the multi–faceted force of nature who is a serious student in the art of songwriting, Sevyn Streeter, the artist, is right where she belongs. "I don't believe in coincidences at all," she declares. "I believe all my steps are by God. I'm in an amazing place."